The Best of Both Worlds: The Hey! Fruits and Nuts Collection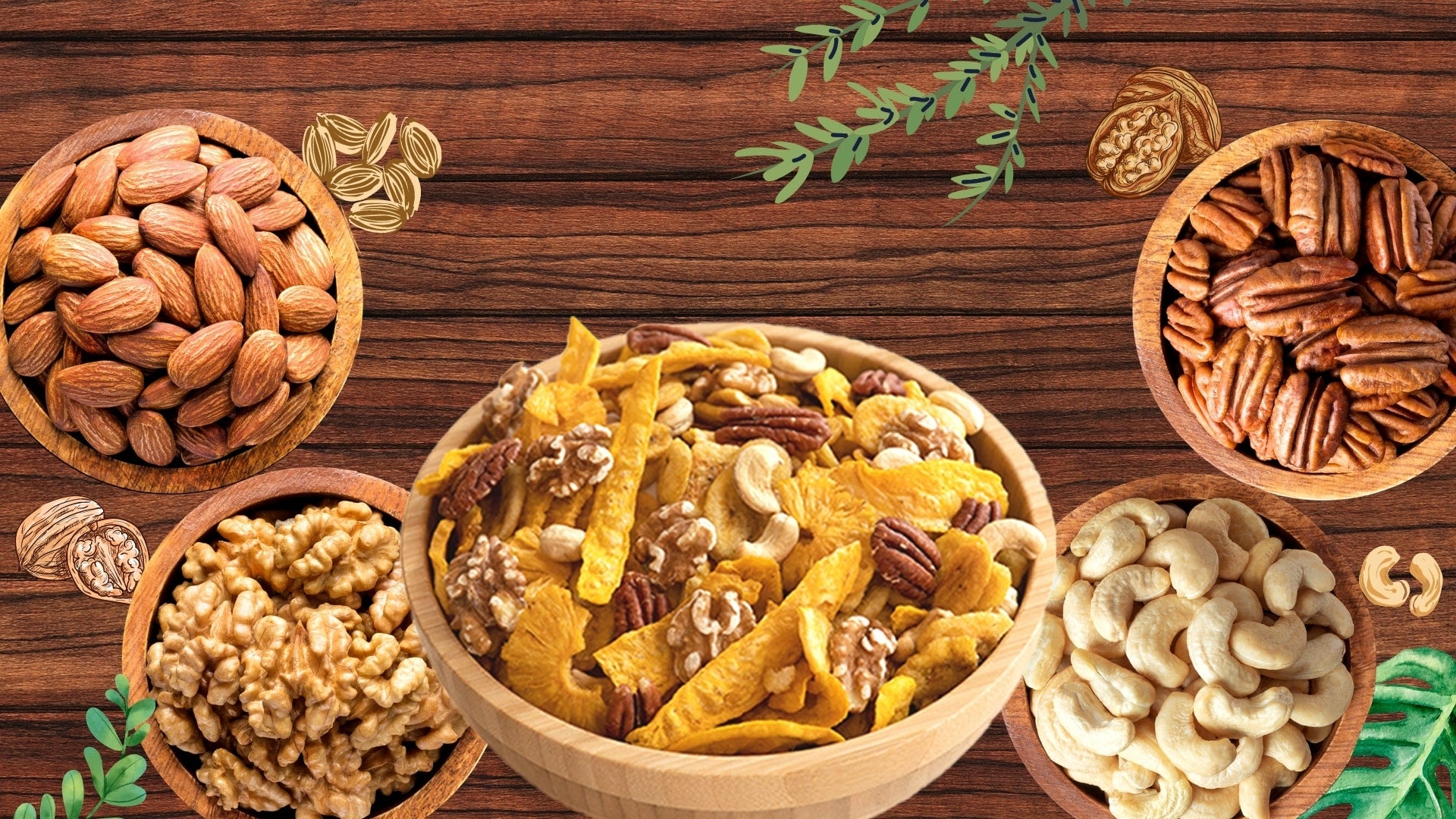 Are you one of those who can't resist snacking on yummy crunchy goodness? Try healthy snacking for a change! 
During this pandemic, we thought about how we could bring about the same healthy goodness to the community with something different. What could be a better combination than healthy fruits and a range of naturally-baked nuts?
Unlike the usual supermarket variant of nuts you find all the time, our mixed nuts are gently baked for a healthy oil-free and sodium-free crunch. This retains the natural flavours of the nuts, and together with the refreshing taste of the fruit chips, it'll leave you craving for more! Did we also mention that our trail mixes are vegan and gluten-free?
Our Pecan Trail Mix combines the naturally sweet pecans with the buttery texture of the cashew, and the slight bitterness of the almond to paint a wonderful combination of taste and texture that complements the fruit chips in the mix. Pecans are a great source of antioxidants, and almonds help to promote weight loss. If you're looking for healthy ways to lose weight, this mix is for you!
The Cashew Trail Mix, consisting of cashews, walnuts and almonds, are perfect for those who prefer to trade the sweetness of pecans for the earthy tanginess of the walnut. The rich buttery cashew sets the stage for the bittersweet almond and the earthy walnut to play with the flavours of our fruit mix. In fact, in addition to their mild and yet complex flavour, walnuts are known to be good for improving brain function and lowering blood pressure! 
If you crave for something sweet, earthy and buttery, then our Walnut Trail Mix is just the right thing for you, with pecans, cashews and walnuts. Walnuts are complemented well by foods that are sweet, which means that fruits like apples go well with this mix. Of course, a perfect combination would be the mild, earthy walnut with the sweet pecan and the rich cashew. Together with our sweet fruit chips, this mix is a match made in heaven!
Our flavourful fruit chips and trail mix will give you the ultimate crunchy experience that is loved by adults and children alike. Available in a family pack for you to share with your loved ones, or if you're hungry enough, to enjoy it yourself!
To learn more, check out our Fruits and Nuts collection here.