Pizza Hut Gives the Traditional Sweet and Sour Chicken a Creative Spin with Hey! Chips' Pineapple Crisps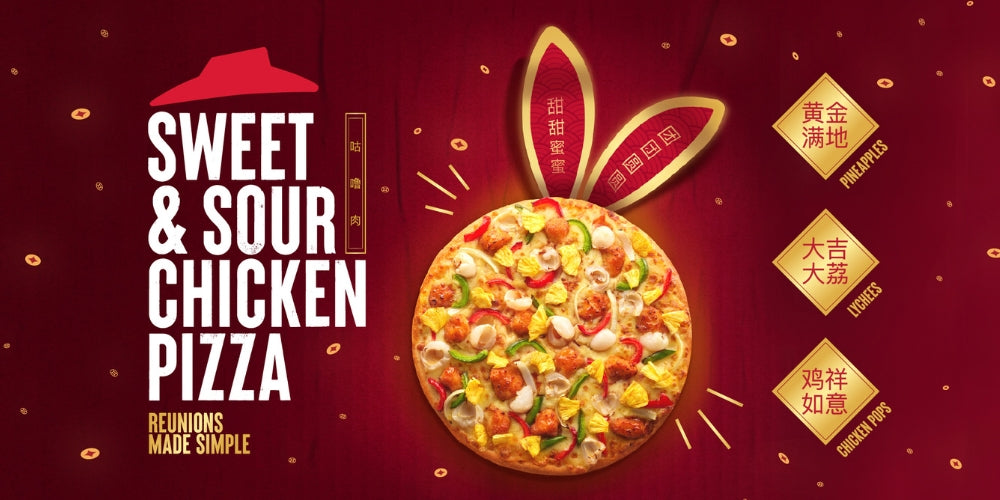 18 JAN 2023, SINGAPORE – Does pineapple belong on pizza? (The Italians are going to hate us for saying this…) If it's our Pineapple Crisps (Chips), then YES!
Pizza Hut Singapore recently released their new Sweet and Sour Chicken Pizza for their limited time Chinese New Year special, and guess who's the star? That's right: it's our scrumptious award-winning snack, the Pineapple Crisps!
Pizza Hut has chosen to use our fragrant Pineapple Crisps in their latest Chinese New Year special, to ring in an auspicious Year of the Rabbit with a mouthwatering combination of succulent chicken and tangy pineapple. Those who celebrate Chinese New Year in Singapore know that pineapples symbolise prosperity (黄金满地), which is why this January truly is the best month to enjoy pineapples in all their forms: as fruits, pineapple tarts, and as healthy snacks! 
Appetizing and aromatic, our alluringly golden pineapple crisps pack some much-needed fruity-sweetness into every slice, elevating each mouthful of pizza with a refreshing and authentically tart taste. The zestiness of our pineapple crisps complements the juiciness of the marinated chicken to perfection, making for a highly palatable explosion of flavours. With crisps like these, you'll want to savour every bite!
When it comes to pizza, whether you're #TeamPineapple or #TeamAntiPineapple, there's one thing both teams can agree on, and it's that you can't miss out on this prosperous promo.
So don't say we never jio you on this special deal, okay? Make your reunion dinners extra-special with the Sweet and Sour Chicken Pizza today! And if you're new to us and enjoyed our Pineapple Crisps, why not order more from our store or try our other delicious and healthy snacks?
Here's to an auspicious 2023 from all of us at Hey! Chips. 😉