Local Start-up Hey! Chips Launches New Corn Chips Like No Other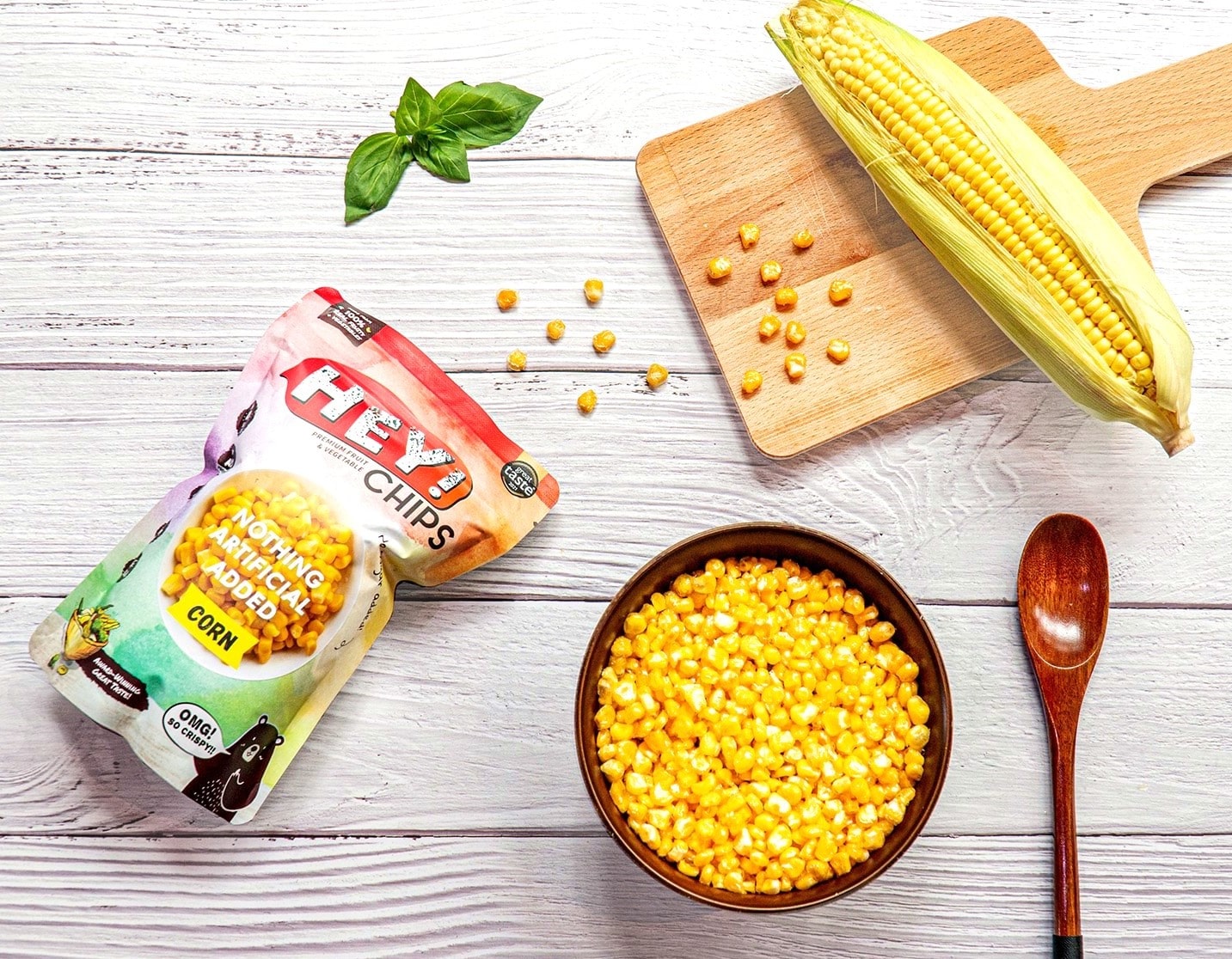 Singapore (May 11, 2022) - Hey! Chips, Singapore's award-winning snack company, has recently launched an all-new type of corn snack by transforming real sweet corn kernels into crunchy, luscious, and nutritious pops.
Hey! Chips is a home-grown start-up that specialises in healthy and delicious snacks made with simple plant-based ingredients. The company is also the world's first fruit and vegetable chips brand to receive the prestigious Great Taste Awards, judged by blind tasting in the UK.
Since 2018, Hey! Chips has featured 8 unassuming types of chips in its Signature Collection. Hey! Chips uses low-temperature dehydration to give its signature crunch without much oxidation, providing consumers a cleaner and more nutritious alternative. The new corn chips are made in the same authentic way, with whole corn kernels.
Unlike tortilla chips and popcorn, Hey! Corn Chips are only minimally processed to impart a satisfying sweet crunch. With tiny sizes and bold flavours, Hey! Corn Chips can be enjoyed straight out of the packs or as a garnish to meals and salads. Since its launch about two weeks ago (29 April 2022), over 4500 packs have already been sold.
"These corn chips are just so creative! My children absolutely love the taste and crispiness of these corns. It's not every day you chance upon something delicious that is also healthy and nutritious." said customer, Jenny Lim, Mother of two children ages 7 and 9. 
In 2016, Singapore declared war on diabetes as Singapore is currently the No. 2 diabetic nation in the world. Recent research from European Association for the Study of Diabetes reveals that healthy plant-based foods support diabetes prevention. With no sugar or anything artificial added, Hey! Chips is committed to making food better to help curb the rates of illnesses that are associated with unhealthy diets.
"Snacking should be fun and delicious because it is a type of comfort food for many people. Unfortunately, most snack options in the supermarkets are highly processed, which has a long-term harmful effect on our health. Our mission is to encourage more people to eat well by enhancing the healthy snacking experience." Says founder and CEO, Emily Chu
Hey! Corn Chips are available on the official website (heychips.com) at a promotional launch price of $4/pack (U.P. $4.90). First-time customers can enjoy $3 off on Hey! Chips' official website. Hey! Chips products are also available at RedMan by Phoon Huat, Ryan's Grocery, Mothercare, Food Folks, Redmart, Shopee, Lazada, NTUC Online, and Grab Mart.