5 Best Care Packages for Gifting for Christmas 2021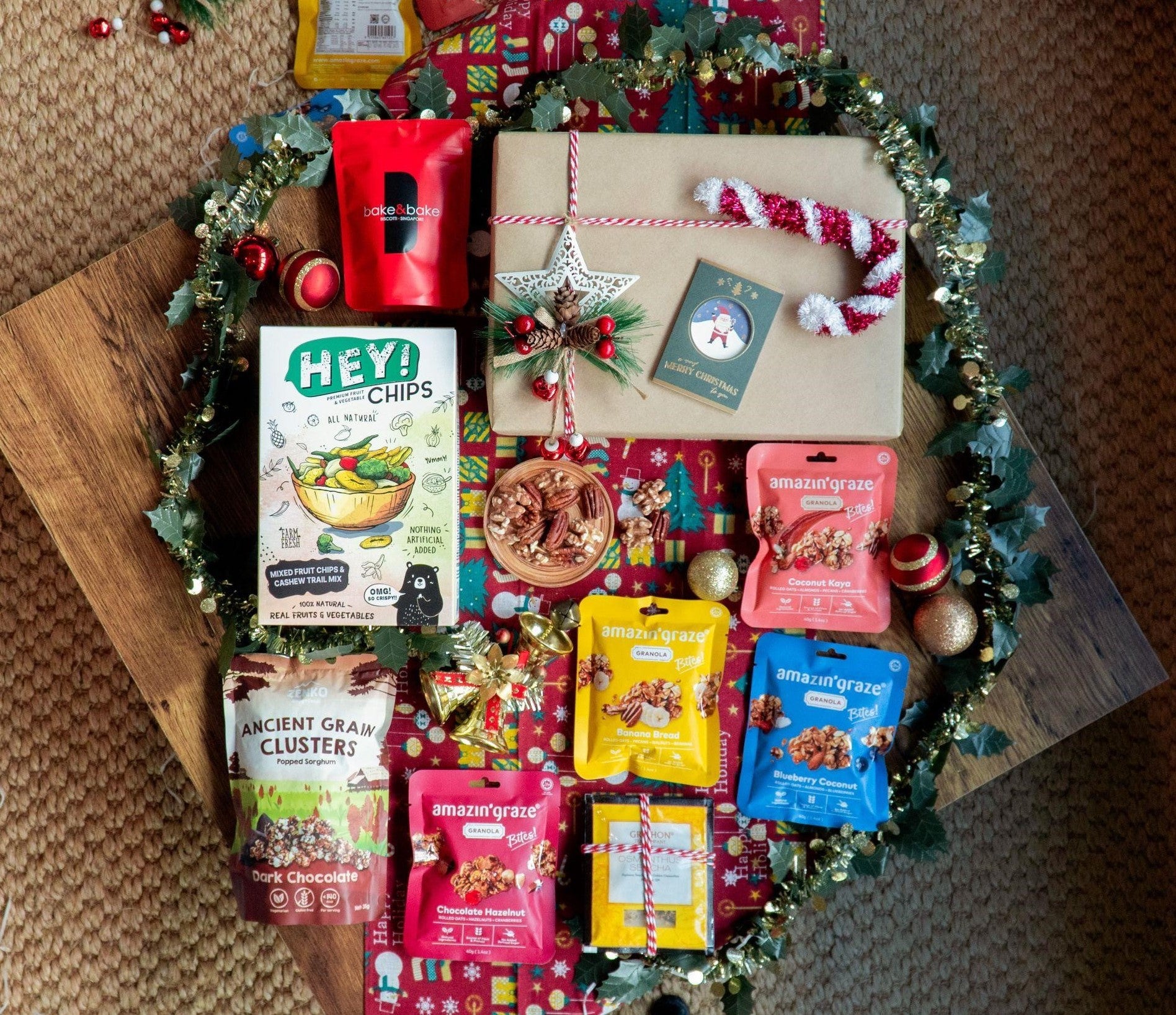 Time flies so quickly that we almost did not realise that we are already at the last month of the year. Christmas will surely be the festive season that you can think of right away when the month 'December' is mentioned. This festive season is known as the season of joy and gift-giving but fear not if you are still wondering what Christmas gifts to get for your loved ones. Hey! Chips got your back with our newly launched healthy snack boxes that can cater to every taste buds. 
This year, we have specially included a wide range of other yummy food and beverage from Singapore local brands and international artisanal food brands, like Amazin' Graze, Bake n Bake, Fossa Chocolate, Fix & Fogg, Gryphon Tea, Serious Food, and Zenko, into healthy snack boxes to spice up your Christmas at home. Read on to find out the different types of snack boxes that you can get for your special someone!
1. Artisanal Gourmet Box ($76.90) 
Preparing a Christmas meal for the Christmas gathering? Consider these amazing local artisanal healthy snacks which can be found in our carefully curated Artisanal Gourmet Box. Simply eat it straight from the pack or take it up a notch by assembling a meal with it. This all-in-one box can definitely be enjoyed by both the adults and kids!
2. Don't Tell Mrs Santa ($82.90) 
What is something great to munch on during a movie marathon? Yes, it is surely snacks! The Don't Tell Mrs Santa healthy snack box is exactly what you can get for a range of crunchy snacks which you can share with your family or friends during movie nights. Remember to not tell Mrs Santa about it otherwise, she will for sure eat them all by herself!
3. Gremlin Offerings ($39.90) 
In this healthy snack box, we have put together different delicious snacks that will let anyone who receives it be put in the holiday spirit in this jolly season. Not only can they be eaten by itself, these tasteful snacks can also be paired with a cup of hot tea to warm up one's Christmas!
4. All Things Delicious (Halal) ($33.90) 
Planning to send something to your Muslim friends? The All Things Delicious (Halal) healthy snack box will certainly be the perfect choice. Snacks included are not only healthy and yummy but are also Halal Certified! Send this halal snack box to your Muslim friends now to satisfy their sweet tooth.
5. Rudolph's Secret Stash ($64.90) 
Do you have friends who are always craving for snacks but at the same time are worried about their diet? Or do you know someone who is health-conscious? Fret not, this healthy snack box is Rudolph's Secret Stash that only you and I know about. Rudolph has always kept this a secret because snacks included in this box are mostly gluten-free and vegan friendly.  You can eat all you want without having to worry about the dietary requirements, so hurry up and send it to your friends now! 
Still not sure which healthy snack boxes to grab? Click here for more information!
We also offer fully customisable snack boxes with our mouth-watering chips and nuts. If you are looking into sending corporate gifts or work-from-home (WFH) care packs for your employees, please drop us a message on our contact form here.