Healthy Snacking Soars Amid COVID: Local Start-up Hey! Chips Doubles Sales, Expands Offerings on Rising Demand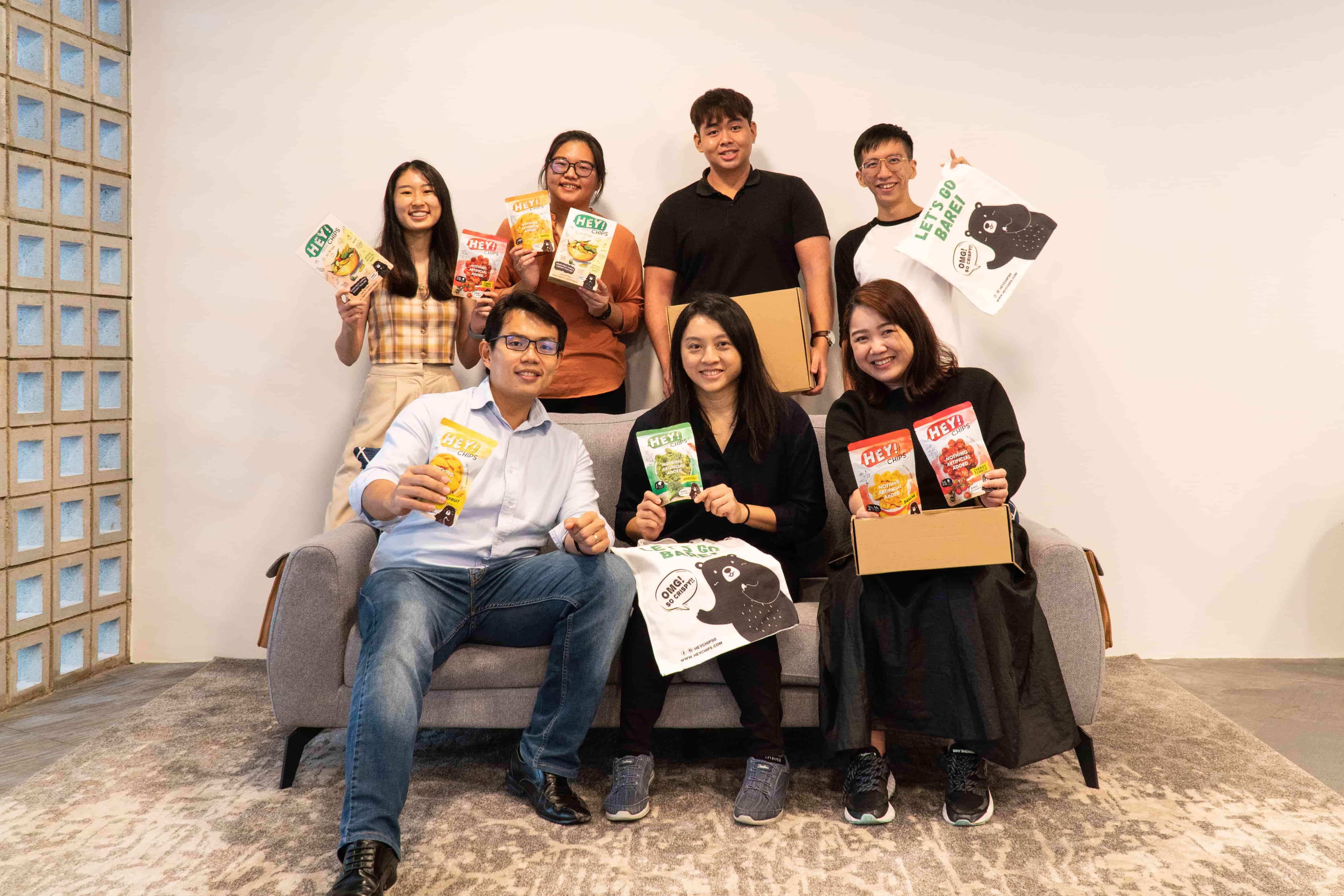 2 JUN 2021, SINGAPORE – All hail healthfulness! As the Covid-19 crisis wears on and consumers grow conscious of their diets, the early wave of binging on comfort food has given way to a new eating trend: healthy snacking.
According to market reports, health food brands are enjoying roaring sales amid the pandemic as shoppers increasingly check out carts full of nutritious nibbles. One such brand is three-year-old Singapore start-up Hey! Chips, which debuted its guilt-free fruit and vegetable chips in late 2018. The brand boasts partnerships with popular cafe Sunday Folks and vegetarian chain Green Dot , and counts celebrities such as actress Lin Youyi (@you_yi) among its fans.
Covid-19 promotes mindful eating habits
Hey! Chips doubled its sales following the circuit breaker last year, selling close to 50,000 packs over the past six months. Most orders were for snack boxes purchased by young mothers, as well as care packages sent by schools and corporations - including Grab and PWC - to employees working from home. A rising number of customer requests also prompted the start-up to expand its offerings to include locally-baked nut mixes to complement its signature fruit chips.
"Many people gained weight during the pandemic, yet their desire to snack remains strong. So instead of cutting out snacks entirely, they are switching to healthy options," said Hey! Chips founder Emily Chu.
With many fruit and vegetable snacks in the market, Hey! Chips maintains its strong belief that "less is more" by keeping its snacks as bare as possible. The brand focuses on making simple, unassuming but fantastic natural flavours, which sets them apart and makes them a popular choice for mothers when selecting snacks suitable for young children at home.

Mother of two and Hey! Chips fan, Shiela Matias, orders Hey! Chips each month. "My family is at home a lot more due to safe distancing measures and we get hungry easily," she says. "I'm a health conscious mom, and I love the thin mango crisps that taste natural and not too sweet. My kids don't usually eat veggies, but surprisingly they're quite fond of Hey! broccoli chips which are healthy and not oily."
Photo of Shiela, Simone (8) & Dylan (4)
Simple, clean snacks fit consumers' new diets
While healthy snacking is trending, this does not guarantee higher sales for all brands, Ms Chu cautioned. When it comes to food, consumers still care about taste most, and many healthy snack options in the market fall short.
Hey! Chips invests heavily in ensuring its products are among the best-tasting healthy snacks available. Ingredients are sourced directly from farms at peak freshness for flavours tasty enough to hold their own. Its low-temperature dehydration technology imparts a good crunch while preserving the natural flavours, nutrients, and colours of the produce, and minimizes oxidation that creates carcinogens. The end product is natural-tasting and crispy, all without an oily aftertaste.
"Some companies enhance flavours with additives and cut costs with palm oil, which are great for their bottom line, but not so great for consumers," Ms Chu says.
"At Hey! Chips we put customers' health before profits. We don't follow fads like salted egg yolk or mala to drive up sales. Our chips and trail mixes fit in perfectly into vegan, gluten-free and even keto diets, which are getting increasingly popular as customers become more health conscious."
In response to a high volume of requests, the company also launched a new range of fruit and trail mixes in March this year. This is the first time a product like this - crunchy mixed nuts are paired with crispy fruit slices - existed in Singapore. The nuts are baked locally to ensure top freshness, and then packed with the brand's fruit chips, to be enjoyed together. The product was developed under the Sugar Smart Challenge 2020 – an initiative by the Singapore Food Manufacturers Association and Health Promotion Board to develop low/no sugar food products.
Trium Fitness studio founder and Instagram fitness influencer, Dawn Sim (@thatmomoffour), is one of the people who snack on Hey! Chips products to complement her healthy diet. "The chips are so pure and clean, and fit well into my nutrition needs," she said. "The way they make them is really simple too, so I feel confident because the product list isn't full of chemicals I don't understand."
Photo of Dawn Sim (@thatmomoffour)

Hey! Chips is now in the process of entering Redman by Phoon Huat and other prominent retail stores.
Appendix A: Hey! Chips Products
Signature Collection: Fruit and Vegetable Chips ($4.50/$9.90)
Fruits and Nuts series: Trail Mix with Mixed Fruit Chips ($10.90)

Banana
Mango
Jackfruit
Pineapple
Okra
Broccoli
Onion
Cherry Tomato

Pecan Trail Mix with Mixed Fruit Chips
Cashew Trail Mix with Mixed Fruit Chips
Walnut Trail Mix with Mixed Fruit Chips
Mixed Fruit Chips
Appendix B:
Main online channels
Hey! Chips website: www.heychips.com
FairPrice Marketplace: www.fairprice.com.sg/brand/hey-chips
Lazada: www.lazada.sg/shop/hey-chips
Shopee: www.shopee.sg/heychipsofficial
Redmart: (Resuming store operations)
S-mart: (In-progress)

Retail shops
Greendot Paya Lebar. Address: 60 Paya Lebar Rd, #02-15, Singapore 409051
Greendot NEX. Address: #02-K2/K3/K4, 23 Serangoon Central, Singapore 556083
Greendot Jurong Point. Address: 1 Jurong West Central 2, 01-43/44/45 Jurong Point, Singapore 648886
Eat Organic. Address: 619H Bukit Timah Rd, Singapore 269728
Ryan Grocery. Address: 1 Kim Seng Promenade, #B1-144/145, Singapore 237994
Ryan Grocery. Address: 29 Binjai Park, Singapore 589831
Waka Waka. Address: 407 Havelock Rd, #05-01, Singapore 169634
Furama Hotel RiverFront. Address: 405 Havelock Rd, Singapore 169633
Motherworks. Great World City (In-progress)
Redman by Phoon Huat. Islandwide (In-progress)
Malaysia
Hey! Chips website
Origin Bulk Store
About Hey! Chips
Established in 2018, Hey! Chips is a healthy snack maker founded by Singaporean Emily Chu. The company is known for its delicious snacks made without any sugar, chemicals or artificial flavourings added. Its ingredients are ethically sourced directly from farms, making them the first local fruit and vegetable snack that is 100% traceable from farm-to-table.
About Emily Chu
An avid hiker, Emily started Hey! Chips as a passion project after being unable to find tasty nutritious snacks to power her through her outdoor expeditions. In 2018, the former architect and brand consultant left her corporate job to pursue Hey! Chips full-time, and the products have since gone as far as Everest Base Camp!